Staff Writer
What's New On MiBRAND This Black Friday?
We are a small self-funded team of 3 based in Johannesburg that built all elements of our product with nothing being outsourced. We have been working since early 2016 to build the ultimate deal-finding tool for South Africans. We started in malls in the East Rand of Johannesburg and quickly grew our platform to feature malls regionally in Gauteng.
The evolution of MiBRAND over the last half decade.
Then late last year we launched Version 4 of MiBRAND which for the first time was available nationwide in South Africa, we took this direction as Covid19 changed the way we interacted with businesses most being forced into exclusively trading online during the lockdowns. We quickly rebuilt our platform from scratch to better serve and function in the new environment we found ourselves in. We made the change from featuring exclusively brick-and-mortar stores to exclusively online stores in South Africa.
Black Friday is fast approaching and our team is working harder than ever to both improve MiBRAND.co.za as well to get it in front of new online shoppers from all over the country. This year MiBRAND is at its peak now available nationwide, featuring over 250 online stores, available on all browsers, and now featuring over 45 000 deals (as of today).
With the launch of Version 4.5 in October, we wanted to make sure we offered users South Africa's best deal browsing experience. Here are 5 improvements we have made leading into Black Friday.
1) The Black Friday Feed.
On MiBRAND we have to manage tens of thousands of deals every day, this Black Friday we wanted to make sure that we are showing the best stores have on offer, so this year our Feed on MiBRAND.co.za will exclusively feature deals that have a saving amount of 30% and more. When you enter a root category, store page, or any other part of the site all deals will show as normal, this change applies exclusively to the Feed for this Black Friday period.
The Black Friday Feed on MiBRAND.co.za
2) User Interface & Experience Improvements.
Late last month we launched some major improvements to our user interface on MiBRAND.co.za, we wanted to focus on improving the user experience when browsing categories and our Feed, so we introduced our new side-scrolling element.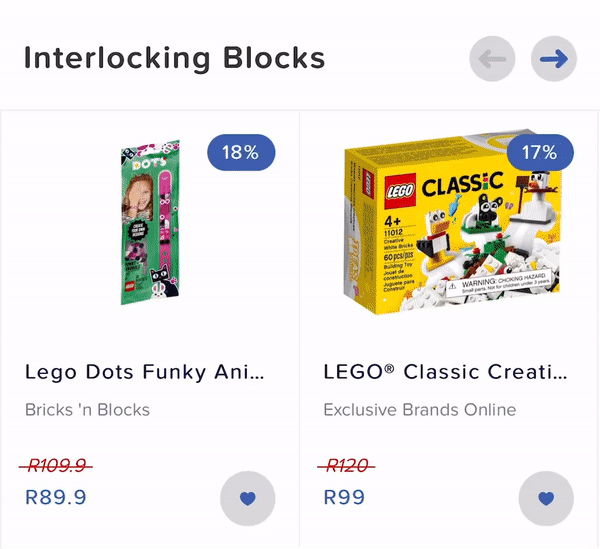 New side-scrolling module.
These modules are made up of some of our busiest subcategories on MiBRAND. Instead of showing dumps of categories, you can now scroll through multiple categories in one place. Want to see more? Click the title or scroll to the end to see the "See More" Card to open the category page as shown in the GIF above.
We have also found better ways of monitoring if a deal is out of stock on a website to avoid listing in on MiBRAND.co.za and we are currently building this into all of our existing store listings. Our tool does its best to try to identify these out-of-stock notices however due to the variations in all the different stores we deal with it can be difficult to track perfectly.
3) New Stores.
We are continuously working to add new online stores to MiBRAND.co.za with new stores being added every week, our vision is to have the true all-in-one experience when searching for online deals in South Africa. This month we have been paying close attention to making sure our MiBRAND content engine is working efficiently, correcting any bugs we are managing to find with existing listings, we have also added new South African online stores like Forever New, ChairCrazy, Art Club & Friends, GOOD Clothing, RZN Golf, VOKE Rugs, Neatfreak, PetHero, Foamy, & more (click the store name to view deals from the store).
Some of the new stores added this month.


4) Crash & Outage Fixes.
If you are one of our night owl users you would've noticed occasionally we've had late night/early morning outages on MiBRAND.co.za. We've been working to fix these bugs and are happy to share that this month so far we have had a 99% up-time rate.
5) New Landing Page & Online Shopping Blog.
Based on feedback we received from our users we realized we needed to provide more content to help show online shoppers in South Africa what MiBRAND.co.za is, how it works, and the value it provides.
The new MiBRAND landing page.
We launched our new landing page MiBRANDApp.com which provides a better explanation of how the site works, an updated FAQ, a Featured Stores page to better navigate some the different stores we feature on our site, and our Online Shopping Blog designed to offer online shoppers in South Africa valuable information on both online shopping in SA as well as tips on using MiBRAND.co.za.
Looking for more tips on using MiBRAND? Read our guide here or follow us on Instagram, Facebook, or Twitter for the latest and news & deals.