Staff Writer
5 Years Of MiBRAND, Our Journey So Far
In 2016 us co-founders Salvatore Barras & Kyriakos Ioulianou set out to build the ultimate tool for shoppers in South Africa. We envisioned a product where users would be able to seamlessly connect to brands they love and to the products they sell all in one place. We announced MiBRAND for the first time in 2016 with this article in the Bedfordview & Edenvale Newspaper: App Set To Make Shopping A Breeze For Bedfordview Residents.
The evolution of the MiBRAND user interface.
In this blog post we go over the 4 versions of MiBRAND that we have released over the last 5 years, learn more about how our idea has evolved over time into what it is today, we also included some media from our archive from previous launch campaigns. Want to browse deals in South Africa from leading online stores? Click here to use MiBRAND.co.za!
Version 1 (July 2016).
When we first launched MiBRAND the idea was to create a tool where users could access deals from all the stores within a shopping centre all in one place. We started out just by featuring the local shopping centres: Bedford Centre, Eastgate, & Park Meadows. Us the Co-Founders at one point would go in the evenings when the mall was quiet with a clipboard to write down all the store names. At this time, in 2016, directories on mall websites were not maintained very regularly so we couldn't always get a full list of all the latest stores from their sites. We even sometimes went store to store in an attempt to sign on each store face to face.
MiBRAND V1 marketing material.
On one particular day, we remember being screamed at by a store owner in Bedfordview for approaching them without an appointment. At this time we would also manually seek and upload deals that we found in-store or in advertising materials. Originally we decided to launch MiBRAND as an app on the app store as we thought at the time it may have been best. We started developing version 1 in January 2016 and by July we were ready for launch at our event: MiBRAND - The Official Launch Party.
MiBRAND V1 launch event in 2016.
The event featured free entrance if you had MiBRAND downloaded on your phone and was a great success with over 1000 attendees, shortly afterwards in August 2016 MiBRAND was featured as a finalist for the MTN App Of The Year Awards and won The People's Choice Award.
Version 2 (September 2017).
In 2017 we realised we needed to build better tools to manage the content on MiBRAND so we built our first store manager tool, we also began to prepare for our launch within the AJP Group's malls.
This meant adding an extra 10 malls with roughly 400 stores onto our app. Additionally, the app underwent a lot of UI improvements making it easier to use. We also attempted to incorporate a feature where users were able to redeem coupons with a QR code at the till, we later decided to scrap this due to it affecting the scalability of what we wanted to build. It was during 2017-2018 we also became a lot more active on the ground with mall activations every weekend in the East of Johannesburg in shopping centres.
One of our mall activations in the East of Johannesburg.
Version 3 (May 2019).
2019 was the year we decided we needed to redesign the platform so it would be scalable regionally in Gauteng. We rebuilt the app as well as developed a new system of finding and uploading stores to MiBRAND. We built a tool that would grab all the stores from franchise websites allowing us to start making the app available across Gauteng.
Our tool was able to identify +1300 malls with +10 000 stores from over 200 franchises in South Africa. We also increased the size of our content curation team to 4 people who spent every day finding and uploading deals to the stores that were now featured. The same year we also released the first version of MiBRAND Web which was a web version of MiBRAND.
Version 1 of MiBRAND Web.
Version 4 (December 2020).
In late 2019 for the first time, we started hearing about Covid19 and had no idea how drastically this was going to affect us and our product. MiBRAND was initially designed to drive foot traffic to malls via the deals in the stores we were advertising and, although we had already begun thinking of ways to incorporate online stores, the leading retailers had not yet fully equipped themselves to the degree they are today for e-commerce so we did not feel it was worth it to put a lot of focus on it at that particular time.
Later the following year in 2020 Covid19 had reached our shores and we started hearing things about lockdowns and realised MiBRAND was in big trouble. At the time the product was also co-owned by our investors the AJP Group whose focus was on their malls and Pick'N'Pays who were also having to start equipping themselves for the coming changes.
Due to differences of opinion at the time, we made the decision to acquire back 100% of MiBRAND from our investors and go our own way. We established ourselves as Kysal Technologies in August 2020 and started rebuilding MiBRAND from scratch, due to the fact that people were locked at home, we decided it would be best to focus exclusively on online stores in South Africa, with many leading brands having now made their products available online. We also built MiBRAND as a website this time with the intention of making the products easier to access for all South Africans.
Coming soon notice for our first release as Kysal.
In December 2020 we launched MiBRAND Version 4 designed to be South Africa's ultimate eco-system of online stores, we also launched our new MiBRAND Content Engine which powers our platform. What this meant was we didn't have to have a content curation team in order to add new stores and deals to the platform with this process now totally automated by our MiBRAND Content Engine.
Version 4 of MiBRAND also came with hundreds of new subcategories whereas in the past we had only featured 11. This allowed us to build a better browsing experience making it easier for users to find deals on the platform.
Version 4.5 (October 2021).
In late October we launched some major improvements to our user interface on MiBRAND.co.za, we wanted to focus on improving the user experience when browsing categories and our Feed, so we introduced our new side-scrolling element.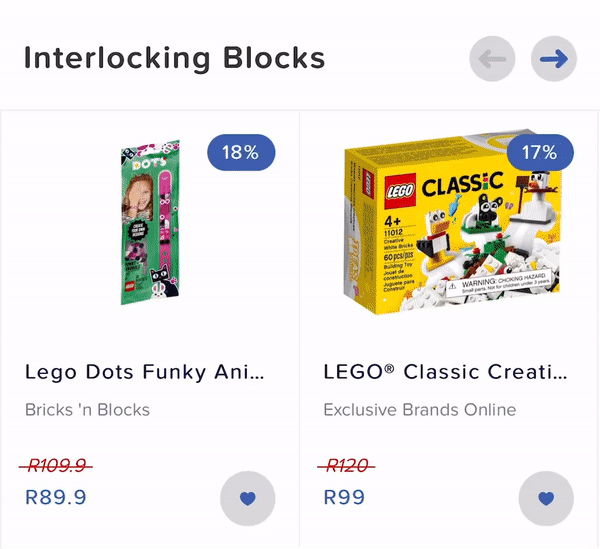 New side-scrolling module.
These modules are made up of some of our busiest subcategories on MiBRAND. Instead of showing dumps of categories, you can now scroll through multiple categories in one place. Want to see more? Click the title or scroll to the end to find the "See More" Card to open the category page as shown in the GIF above.
Then among improvements to our search and feed algorithms to try to increase the quality of the content, we have also found better ways of monitoring if a deal is out of stock on a website to avoid listing it on MiBRAND.co.za and we are currently building this into all of our existing store listings. Our tool does its best to try to identify these out-of-stock notices however due to the variations in all the different stores we deal with, it can be difficult to track perfectly.
The evolution of MiBRAND.
Ready to browse the latest deals from over 250 South African stores? Click here to use our latest version of MiBRAND for free with no downloads or signup required nationwide in South Africa!